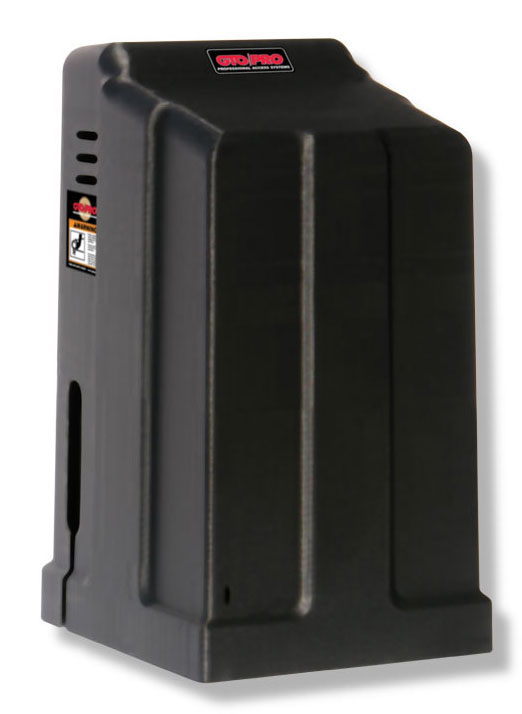 Discontinued
GP-SL050

State of the Art Technology.
GTO has a full line of state of the art AC powered slide automatic gate operators. They are controlled by self diagnosing microprocessor based control boards. They feature inherent obstruction sensing, which will reverse direction and stop in either the open or close cycle, if an obstruction is encountered. This safety feature is independent of any external safety devices connected to the system, such as safety edges or photo beams.


:

SPECIFICATIONS:
INFORMATION:

AC Powered with inherent UPS (Uninterrupted Power System / Battery Backup) gate operation and all DC powered counters / safety devices.
AC Powered with Inherent UPS (Uninterrupted Power Supply)
120 Vac 60 Hz built in power receptacles (1 amp rated)
2500 RPM, 24V brushless DC motor 1/2 HP. equivalent
JOG Adjusting Limits
Opening speed to 90 degrees from 15 seconds
System requires two 12 Volt batteries for built-in inherent battery back up system. (not included)

Maintenance Free Brushless DC motors
On board 12 V DC power delivers 300 Amp UPS
GTO Residential 3/5 Year Warranty
Meets Small Package Shipping Standards
Works on all types of gates;* chain link, tube, panel, ornamental, wood and vinyl.
Optional Universal Receiver (RB709U)
U.L. rated for Class I, II, III & IV. System certified to be in compliance with U.L. 325, 5th edition.
Weatherproof high density ABS, UV resistant cover
NOTE: Ball bearing rollers and covers are recommended on all gates.
---
NOW ONLY


$1275.00

The GP-SL050 Slide Gate Operator:The GP-SL050 is designed for continuous duty operation of slide gates. Max Gate; Weight 1200 lbs.
(544.3 kg), Length 37 ft. (11.3 m) with a 32 ft. (9.8 m) Maximum Opening
The GP-SL050 has been discontinued.
| | | | | |
| --- | --- | --- | --- | --- |
| Product Number | Description | | | |
| | Radio Receiver for remote control transmitters | | $49.68 | |
| | Transmitter for radio controls | | $18.20 | |
| | Additional # 41 Chain 10 ft sections w/ master link | | $29.00 | |
| | |
| --- | --- |
| | |
Advanced Systems.

The UNIQUE battery back-up feature of the advanced GTO/PRO models takes over in the event of a power failure. The energy stored in the back-up batteries will provide a minimum of 50 openings and closings before depleting.

The advanced units also retain the function of all safety devices and accessories such as photoelectric sensors, card readers, telephone entry systems, digital keypads, etc., while the unit runs on battery power. We do this through the use of our special inverter, which converts the energy stored in our back-up batteries from DC to AC power. The systems gate movement slows to 1/2 speed to indicate that the opener is operating on battery power. When normal power is restored, the battery back-up automatically shuts down, and the gate will move at full speed; no adjustments are necessary.

Automatic gate openers are our business. Call us with further questions we are pleased to serve you. (800) 878-7829