Enhance the uniqueness of your railing system through the variety of vinyl caps and top rails.
Choose your own Vinyl Picket style
1 1/4" Square Picket
Baluster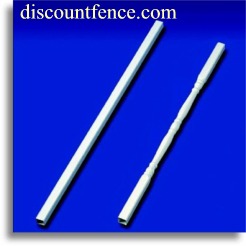 Choose the Top Rail
that meets your needs.
T-Top or the
Standard 2x4 look.
---
Pricing
Century Square & Baluster[3'] [3-1/2']
Offering the 2x4 Look
Olympia Square & Baluster [3'] [3-1/2']
Offering the "T" Top
---
More Information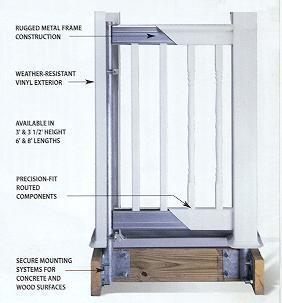 Notice the strength!
Our vinyl railing system is
made to withstand the riggers of daily use.
click picture for enlarged view
Your vinyl railing system is based upon the picket and rail choice you select.
Style
Picket Choice
Top Rail
Century
1-1/4" sq.,
Spindle or
Baluster
2" x 4"
Olympia
1-1/4" sq.,
Spindle or
Baluster
"T" top