Shopping Cart
Jerith Fence Series

100 Series

200 Series

200 Modified

400 Series

Concord

Regency

Ovation

Liberty
Information

Accessories

Sales & Discounts

Gates

Powder Coat

BOCA Pool Code

Warranty

FAQ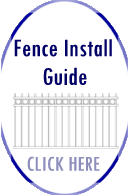 Concord (EP-4) Aluminum Fence

Concord (EP-4)

is similar to the Lexington design, except that there are pickets between each curve, as well as inside the arch. Again, either standard points or finials may be used

Pricing

(Choose a size for pricing)

Quick Specs

All post included post cap, post cap upgrades are available

All sections and pre-assembled for easy installation

Sections can rake 8" per 6' section

Fence height is actual length of pickets

All Jerith aluminum fence is powder coated


Gate Information

All gates are preassembled and include self-closing and self-latching hardware

Use a gate post for both sides of the gate
Double Punched sections are NOT available for this style
Double drive gates can be made by using 2 of the walk gates on the price list

Two drop rods are provided with double drive gates

Gate Sizes are size of opening between gate posts



Component Sizes

Concord Specs

Pickets
3/4 " sq. x .050" thick
Rails: Top Walls
Side Walls
1" x .055" thick
1 1/2 " x .082" thick
Standard Posts
2" sq. x .060" thick
Gate Posts
2" sq. x .125" thick
4" sq. x .125" thick
Spacing Between Pickets
3 31/32"
Post Spacing
72" on center
Heights Available*
36", 48", 57", 60", 72"
Standard Colors
Black, White, Bronze
Weight Supported
350+ lbs. per section

Our pledge is to find the best shipping charges and call you with shipping quote before we process any orders. Free shipping available on most aluminum fencing orders; please call 1.800.878.7829 to see if you qualify!