Shopping Cart
Jerith Fence Series

100 Series

200 Series

200 Modified

400 Series

Concord

Regency

Ovation

Liberty
Information

Accessories

Sales & Discounts

Gates

Powder Coat

BOCA Pool Code

Warranty

FAQ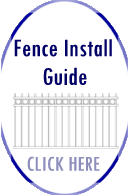 Ed's Story

This year I took on the challenge of having an inground pool installed. One of the many pieces to the entire project was the fence, which is required by local building codes and is also a proactive approach to keeping the pool area safe and secure. I am a handy person and elected to purchase the fence and install it myself. I tried some local fence dealers, as well as searching on the Internet based on product offerings and of course price. In my shopping around, I came across discountfence.com and gave them a call.

Discount Fence satisfied both requirements, which were products offered and price. In fact, they were in a league of their own and there were no retailers even close. I worked Discount Fence from that point forward and I was very impressed with their selection of products, guidance on what works best, information on installation, and of course the price. The local fence dealers were about 30% to 50% higher on average and really did not want to deal with me since I was installing it myself.

Furthermore, when I needed detailed information regarding design and layout of how the fence fits into the pool area, they never hesitated to make a conference call to the manufacturer to ensure my question, which would impact my overall pool design, was answered. Looking back at my experience now that my project is completed, the staff at www.discountfence.com was always receptive to my phone calls and questions and I was very happy with the price and service.

My pool project consisted of an in ground heated salt water pool, a pool house, rock waterfall, patio, fence, and various landscaping. When guests come over to the house and look at the pool area, everyone's first comment is "The Fence Looks Great!" My question is, what about the pool? Edward T.

Thank you Ed for your kind words. If you want more information about the Ovation Aluminum Fence. 800-878-7829.

Express Ship Program
[4'] in Black only
Ships within 5 Business Days

Our pledge is to find the best shipping charges and call you with shipping quote before we process any orders. Free shipping available on most aluminum fencing orders; please call 1.800.878.7829 to see if you qualify!