Sentry Aluminum Fence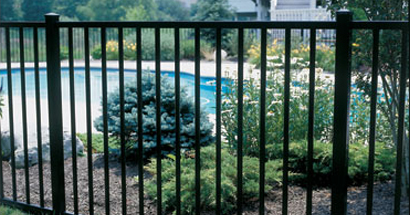 A Sentry Ornamental Aluminum Fence is the perfect way to provide security and beauty to your back yard. The ornamental Iron look is always admired in even the most posh of neighborhoods and gain time by being mainenance free. Whether it's for a swimming pool or a gate entrance Ornamental Aluminum is the perfect answer to your fence need.
Pricing:
3 Rail(Guardian)
48"
More Information:
The elegance and simplicity of the Guardian Sentry fence provides a smooth top and bottom rail making this fence ideal for pool applications. Available heights: 3 rail 48 "
1" x 5/8" pickets
1" square rails
2" square posts
Pre-assembled in 6" wide sections
Complete line of arched and straight top gates available
Available in Black or Bronze